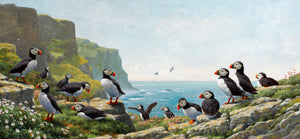 Welcome to the roost!
Stag & Deer Gifts
Birds of Prey Gifts
Highland Cattle Gifts
Welcome to the Julian Friers Gift Shop!
For over 40 years, wildlife artist and conservationist Julian Friers has travelled the remote countryside of the British Isles, painting the iconic wildlife along the way.
For the first time, a selection of his paintings have been released as a high-quality homeware, kitchenware and stationery range. The range features a collection of paintings featuring the birds and other fauna from around Britain and Ireland.
So, during this time when it is hard to venture off the beaten track, step into the artistic world of Julian Friers and explore the natural world through 40 years of paint.